About Us
Vision | Mission | Values
Our Vision
Our vision is to provide restorative care in our community for those in a housing crisis.
"….with faith, hope and love… But the greatest of these is love."
1 Corinthians 13
Our Mission
Hope of Mooresville provides temporary, safe shelter and support services to Mooresville's homeless women and children.
Our Values
Dignity- A non-judgmental approach by meeting guests where they are.
Faith- Shown through loving actions because we believe a life lived well is lived under a Higher Power.
Comprehensive Approach- Overall wellness of mind, body, and spirit.
Compassion– Extending grace in all situations.
Stewardship- Accountability to responsibly serve our guests and community with sustainable and best practices.
Our History
A group of dedicated community members began the process of creating HOMe after realizing there was a gap in services for the homeless. Committed to developing a program that would provide shelter and assistance for these individuals and families, HOMe empowers women to become self-sufficient and transition into stable housing, giving them, and their children hope for a better future.
HOMe has been overwhelmed and grateful of how the community embraced our vision and came together to build a house and provide continued support of the mission. We value collaborative community partnerships with our local nonprofits, schools, churches and businesses. We believe homelessness is a community problem that deserves a community solution.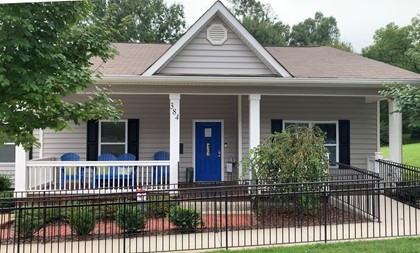 Who We Serve
HOMe families have experienced hardships such as medical, financial, mental, spiritual, trauma and challenging relationships. How and why these families come to us is not for us to judge. Our most important service it to show love with dignity and grace. No family will look the same walking through our door. Each will have their own story to tell and we are here to listen, support and provide.
Mooresville reports a yearly average of approximately 100 homeless children in the combined MGSD and ISS school districts. Homeless students are more likely to underperform academically, have developmental delays and have physical and mental health problems. Our organization values our residents and future generations, and we are dedicated to advocating and serving the homeless to avoid long-term consequences that impact the social, economic, and spiritual health of our community.