HOMe is very honored to have the Dale Jr. Foundation as our Star Sponsor for our annual The Light is Alway On event.  Since the beginning, The Dale Jr. Foundation has supported HOMe in various ways, allowing us to expand and reach more women and children facing a housing crisis.  We appreciate the generosity of The Dale Jr. Foundation and the impact this organization has had on the local Mooresville Community.  Do you own a business that believes Hope starts at HOMe? There are plenty of sponsorship opportunities for our event still available.  Please click below to learn more about how you can impact those in need right here in Mooresville.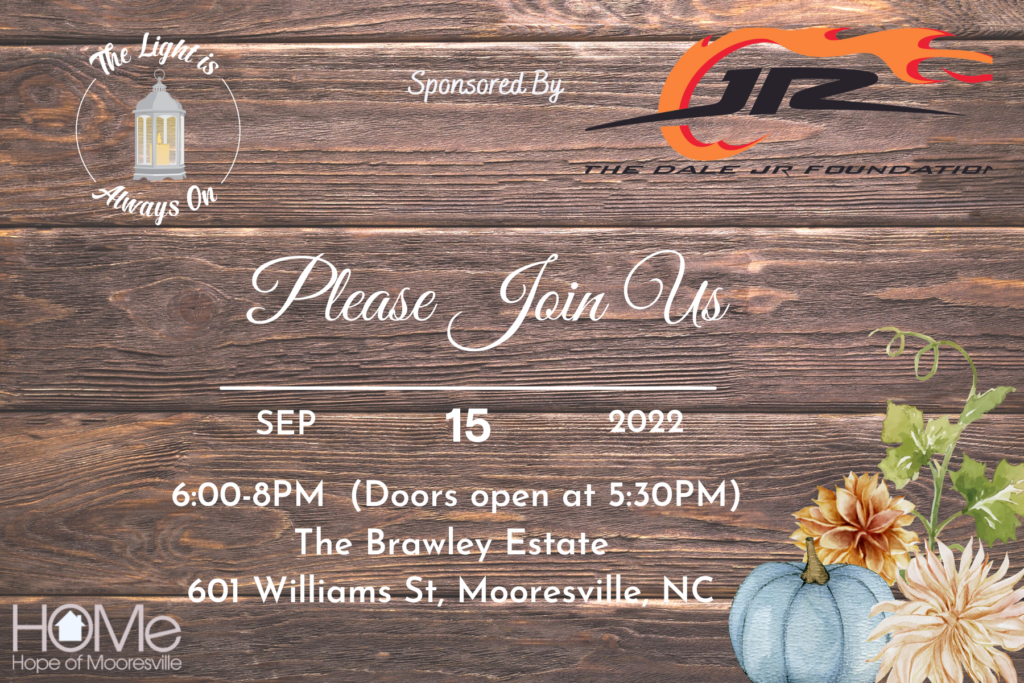 HOMe provides:
Temporary, supportive housing for Mooresville's homeless women & children.
HOMe provides individual case management, financial literacy and life skills training. We also connect guests with critical support resources such as physical and mental health services, resume assistance, employment and placement in stable housing.
PLEASE READ BEFORE VISITING!
For the privacy of our guests, please do not stop by the house unless you have made prior arrangements.
For questions about our guest intake process, call our Program Coordinator 980-447-9007 or email Office@HopeOfMooresville.org
For all other questions and donations, contact our Development Coordinator, Lucynda, at 980-435-5209 or email Lucynda@HopeOfMooresville.org
At this time, HOMe is no longer accepting the following items: Clothing, Toys, Furniture. We simply do not have the storage capacity for these items. Thank you for your understanding!