"The Light is Always On" is back and better than ever! After not being able to meet together for 2 years, HOMe is excited to announce a fresh take on our annual fundraiser.  Join us as we share guest's stories and celebrate successes. We will be posting more details and sending out invites soon. You do not want to miss out on this fun. Important night!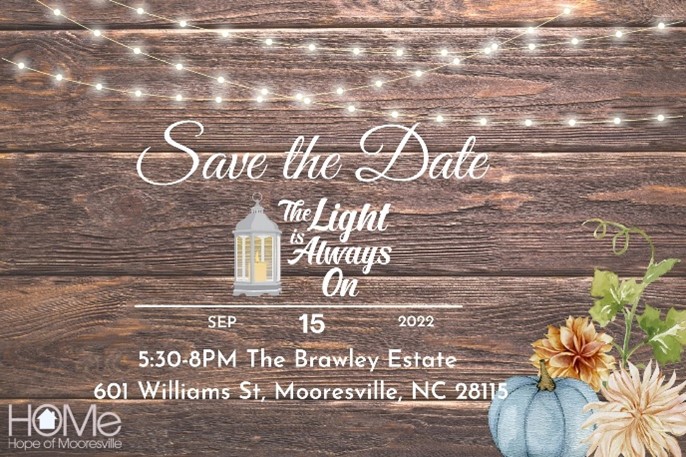 HOMe provides:
Temporary, supportive housing for Mooresville's homeless women & children.
HOMe provides individual case management, financial literacy and life skills training. We also connect guests with critical support resources such as physical and mental health services, resume assistance, employment and placement in stable housing.
PLEASE READ BEFORE VISITING!
For the privacy of our guests, please do not stop by the house unless you have made prior arrangements.
For questions about our guest intake process, call our Program Coordinator 980-447-9007 or email Office@HopeOfMooresville.org
For all other questions and donations, contact our Development Coordinator, Lucynda, at 980-435-5209 or email Lucynda@HopeOfMooresville.org
At this time, HOMe is no longer accepting the following items: Clothing, Toys, Furniture. We simply do not have the storage capacity for these items. Thank you for your understanding!